This section is available only if you have user rights for editing metadata.
Contacts have to be specified in order to be able to create metadata descriptions of products - like those you can find via e.g. product search.
Each product metadata needs contact data for its publisher and originator.
After selecting the Metadata contacts item in the

menu, the table with the specified contacts will be displayed.
You can view, modify and delete the existing contacts by clicking on the corresponding icon in the Actions column.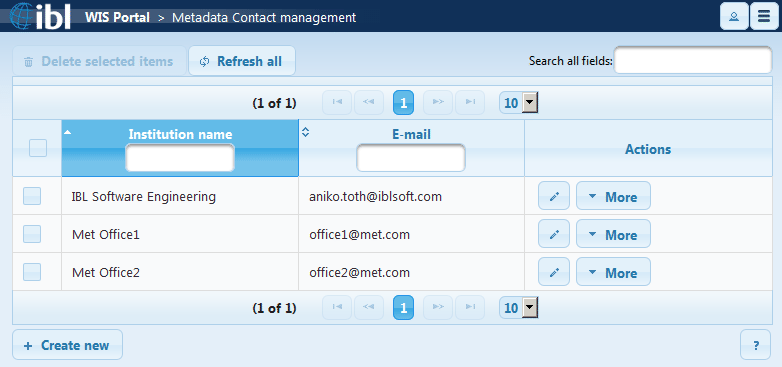 Click to change the details of the selected contact.

Click More and select Copy to open a dialog where a copy of the current contact details is displayed: edit the details to create a new contact. This is useful if the new contact is similar to an existing contact.

Click More and select Delete to delete the selected contact.
If you want to delete several contacts at once, select the check-boxes in front of the contacts to be deleted and then click Delete selected items
In case that your contact list includes a lot of contacts, you can search the list on the basis of the institution name of e-mail.
Enter the name in the Institution name box: only contacts with matching institution name will be listed
Enter the e-mail in the E-mail box: only contacts with matching e-mail address will be listed
To add a new contact that can be used as a publisher or originator in the metadata description, do the following:
Click Metadata contacts.
and select
Click Create new to display the Contact properties dialog.
Enter the contact details.


Most fields are self-explanatory.
Phones: It is possible to enter several phone numbers separated by commas.

Click Save to confirm the contact details.
The contact can be selected as publisher or originator of the data in Metadata editor. The originator and publisher are usually two different departments of the meteorological institution:
Publisher: name of the entity (department, institute) which is publishing the metadata
Originator: name of the entity (department, institute) which is the source of the product